Boost your English grammar skills with engaging 'Some vs Any vs No' exercises! Dive into interactive quizzes suitable for beginners, intermediates, and advanced learners. Perfect for teachers and students, these online exercises offer comprehensive practice for mastering these tricky distinctions. Enhance your language proficiency and make learning enjoyable today!
Lesson Details
| Grammar Item | Some vs Any vs No |
| --- | --- |
| Objectives | – Differentiate between "some," "any," and "no" in various contexts. |
| | – Practice correct usage of each term. |
| | – Reinforce understanding through diverse examples. |
| Activity Type | Fill in the Blank Exercises |
| Levels | Beginners, Intermediate & Advanced |
| Quiz Questions | 30 |
Some vs Any vs No Exercises & Language Test Quiz
Welcome to a comprehensive exploration of 'Some vs Any vs No' in English grammar! These nuanced distinctions can be challenging, but fear not—we've crafted a series of online exercises to make learning both effective and enjoyable. In this blog post, we'll delve into the rules governing the use of 'Some,' 'Any,' and 'No.' Whether you're a teacher looking for engaging materials or a learner striving for mastery, these exercises are tailored to meet your needs. Let's embark on a journey of linguistic precision!
🚀 Don't miss out on the fun – play now and boost your language skills! 🌐🎉 or check our English courses and exclusive services.
Some vs Any vs No 3 Levels Grammar Quiz
Understanding the nuances of 'Some vs Any vs No' is crucial in mastering English grammar. Our free online exercises offer an immersive learning experience for both educators and students. Navigate through interactive quizzes, accompanied by real-life examples and instant corrections, making your English grammar practice not only effective but also engaging. Embrace the world of online learning and enhance your language skills at your own pace.
Free Interactive ESL English Grammar Practice Exercises
Why wait? Dive into these exercises to solidify your understanding of 'Some vs Any vs No.' Practice is the key to proficiency, and our interactive quizzes provide the perfect platform. 🚀 Unlock the door to confident English usage.
Play the quizzes, explore the examples, and refine your grammar skills today! 📚💡
Welcome to EnglEzz Language Learning Quiz! Choose an exercise level, start the quiz, click on the right alternative and hit "Submit" for each question within 20 seconds. Good luck! 😊
Great job on completing the Exercises! 🌐✨ You've taken a significant step in mastering English grammar.
English Grammar Rules
| Grammar Item | Some vs Any vs No |
| --- | --- |
| Rule | – 'Some' is used in affirmative sentences and offers, indicating a quantity or existence. |
| | – 'Any' is used in questions and negatives to indicate an unspecified quantity or none at all. |
| | – 'No' is used to indicate the absence of something. |
| Examples | – "I have some apples." |
| | – "Do you have any questions?" |
| | – "There is no time to waste." |
| Importance | – Understanding these distinctions is crucial for expressing quantity and existence accurately. |
| | – Enables learners to construct affirmative, negative, and interrogative sentences effectively. |
Understanding these distinctions will refine your English expression and make your communication more precise. Happy learning! 🌟
ESL Games Online: Some vs Any vs No Examples
Exercise 1: Beginners Level
I don't have ____ money in my wallet.
There is ____ milk in the refrigerator.
She doesn't want ____ help with her homework.
Exercise 2: Intermediate Level
Do you have ____ plans for the weekend?
I couldn't find ____ information about the topic.
She has ____ experience in project management.
Exercise 3: Advanced Level
I can't find ____ reason for his behavior.
There is ____ chance that the project will be completed on time.
She didn't express ____ concern about the issue.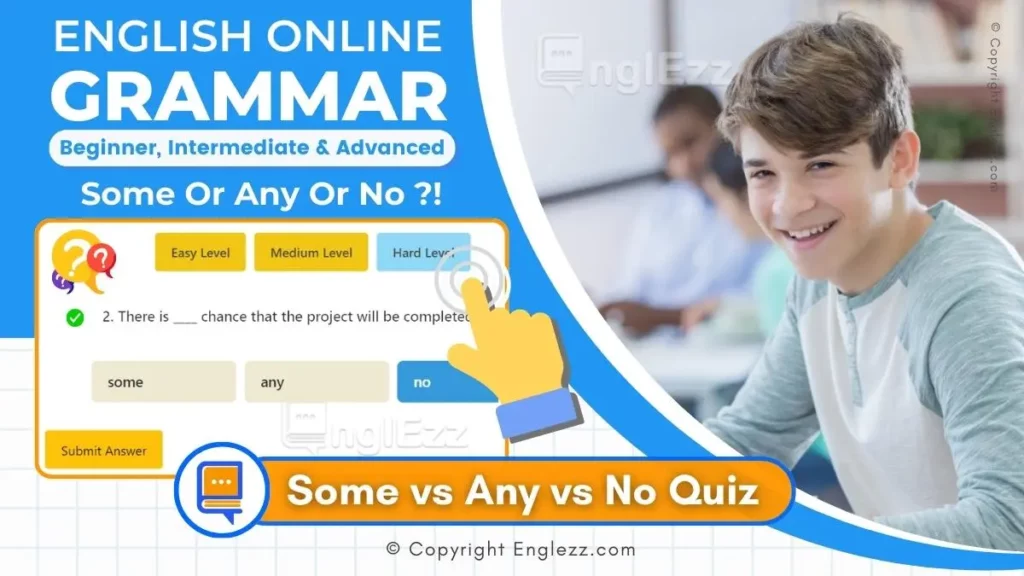 Recap
Mastering 'Some vs Any vs No' is a significant stride toward English language proficiency. Through these exercises, you've not only clarified the nuances but also honed your ability to navigate real-life language scenarios.
📚 Enjoyed this lesson? Dive into more grammar gems by subscribing to our blog. 🌐 Don't miss out on exclusive content! Follow, like, and share for regular updates. Ready for a deeper dive? Explore our services, e-books, and courses with a money-back guarantee. Your journey to English mastery starts now! 🚀
Looking for a more structured approach to improve your English skills? Head over to Englezz.com and explore our comprehensive English courses and downloadable worksheets. We've got everything you need to level up your language game.
But hey, the learning journey doesn't have to end here! Subscribe to our YouTube channel for more engaging lessons, tips, and quizzes that make learning English a breeze. Click that SUBSCRIBE button now!
Subscribe, learn, and excel with us. Happy learning! 🚀✨
Other Popular Articles - قد يعجبك أيضا