Are you tired of feeling perplexed by phrasal verbs? Do you find yourself struggling to grasp the meaning behind these tricky linguistic combinations? Well, fear not! In this comprehensive article, we are going to delve into the world of common phrasal verbs with examples, synonyms and definitions, unraveling their mysteries and shedding light on their usage.
30 Common Phrasal Verbs with Examples
Whether you're a language enthusiast looking to expand your vocabulary or a non-native English speaker aiming to master the nuances of the language, this guide is tailor-made for anyone seeking clarity on 30 common phrasal verbs. With vivid examples, concise definitions, and handy synonyms at your disposal, you'll soon be wielding these linguistic tools with confidence and finesse.
Learn 30 common phrasal verbs with examples and synonyms. Clear definitions to help you understand and use these essential expressions.
#1. Break down
Synonym: Analyze
Antonym: Construct
Definition: To dissect or analyze into smaller parts.
Example: The mechanic needs to break down the engine to identify the issue.
#2. Bring up
Synonym: Mention
Antonym: Avoid
Definition: To introduce a topic or start a conversation about something.
Example: She decided to bring up the issue during the meeting.
#3. Call off
Synonym: Cancel
Antonym: Confirm
Definition: To decide not to do something planned or expected.
Example: They had to call off the picnic due to bad weather.
#4. Carry out
Synonym: Execute
Antonym: Neglect
Definition: To complete or perform a task or plan.
Example: The researchers will carry out experiments to test their hypothesis.
#5. Come across
Synonym: Encounter
Antonym: Avoid
Definition: To find or meet unexpectedly.
Example: While hiking, they came across a beautiful waterfall.
#6. Cut off
Synonym: Disconnect
Antonym: Connect
Definition: To stop the supply or communication of something.
Example: The storm cut off electricity to the entire neighborhood.
#7. Do away with
Synonym: Eliminate
Antonym: Preserve
Definition: To remove or get rid of something.
Example: The company decided to do away with outdated policies.
#8. Drop by
Synonym: Visit
Antonym: Depart
Definition: To make a brief, unplanned visit.
Example: Feel free to drop by my office anytime you're in the area.
#9. Fall apart
Synonym: Disintegrate
Antonym: Stay intact
Definition: To break into pieces or fail completely.
Example: The old book started to fall apart due to its age.
#10. Figure out
Synonym: Solve
Antonym: Confuse
Definition: To understand or solve a problem through thinking.
Example: It took him a while to figure out the puzzle.
#11. Get across
Synonym: Communicate
Antonym: Miscommunicate
Definition: To successfully convey or make understood.
Example: It's challenging to get complex ideas across in a brief presentation.
#12. Give in
Synonym: Surrender
Antonym: Resist
Definition: To yield or submit to pressure, persuasion, or temptation.
Example: After a long argument, she decided to give in and compromise.
#13. Go through
Synonym: Experience
Antonym: Avoid
Definition: To experience or endure a process or situation.
Example: Everyone has to go through challenges in life.
#14. Hang out
Synonym: Socialize
Antonym: Isolate
Definition: To spend time with friends or in a casual environment.
Example: Let's hang out at the coffee shop after work.
#15. Hold on
Synonym: Wait
Antonym: Let go
Definition: To wait or stop momentarily.
Example: Hold on a second; I'll be right back.
#16. Keep up with
Synonym: Stay informed
Antonym: Fall behind
Definition: To stay at the same level or pace as something or someone.
Example: It's challenging to keep up with rapidly changing technology.
#17. Look after
Synonym: Care for
Antonym: Neglect
Definition: To take care of or be responsible for someone or something.
Example: She looks after her younger siblings when their parents are away.
#18. Make up
Synonym: Invent
Antonym: Uncover
Definition: To create or fabricate, especially a story or excuse.
Example: He had to make up a plausible excuse for being late to the meeting.
#19. Pick up
Synonym: Collect
Antonym: Drop off
Definition: To lift or take something or someone from one place.
Example: Can you pick up some groceries on your way home?
#20. Point out
Synonym: Identify
Antonym: Ignore
Definition: To indicate or draw attention to something.
Example: She was quick to point out the errors in the report.
#21. Put off
Synonym: Postpone
Antonym: Proceed
Definition: To delay or reschedule an event or plan.
Example: The meeting was put off until next week due to scheduling conflicts.
#22. Run out of
Synonym: Exhaust
Antonym: Replenish
Definition: To deplete the supply of something, usually unexpectedly.
Example: We ran out of coffee, so I'll need to buy more on the way home.
#23. Set up
Synonym: Establish
Antonym: Dismantle
Definition: To arrange or prepare something for use or operation.
Example: They set up a new system to improve efficiency in the office.
#24. Show up
Synonym: Arrive
Antonym: Absent
Definition: To appear or arrive, especially at a specific time or place.
Example: I hope everyone will show up for the team meeting tomorrow morning.
#25. Take off
Synonym: Depart
Antonym: Land
Definition: To leave the ground or become airborne, typically for a flight.
Example: The plane is scheduled to take off in 30 minutes.
#26. Take over
Synonym: Assume control
Antonym: Relinquish control
Definition: To gain control or responsibility of something from someone else.
Example: The new CEO will take over the company's operations next month.
#27. Throw away
Synonym: Discard
Antonym: Keep
Definition: To dispose of something no longer needed or wanted.
Example: Don't throw away those old books; you can donate them to the library.
#28. Turn down
Synonym: Reject
Antonym: Accept
Definition: To refuse or decline an offer or request.
Example: Unfortunately, she had to turn down the job offer due to personal reasons.
#29. Turn up
Synonym: Appear
Antonym: Disappear
Definition: To arrive or be present, especially unexpectedly.
Example: I didn't expect him to turn up at the party without notice.
#30. Wake up
Synonym: Awaken
Antonym: Sleep
Definition: To stop sleeping and become conscious.
Example: I usually wake up early to start my day with a morning routine.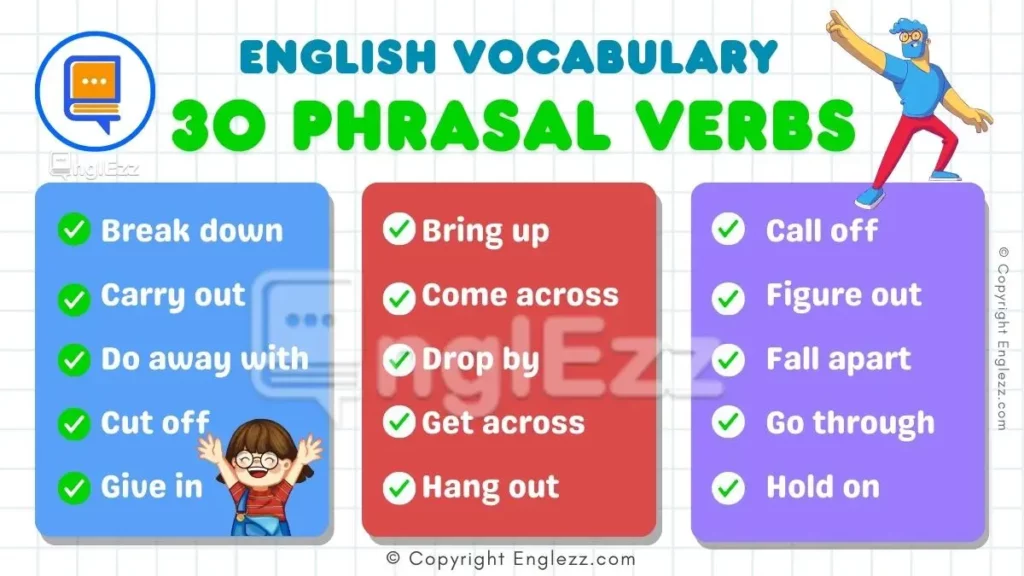 Recap
Mastering phrasal verbs can greatly enhance your English language skills and help you communicate more effectively. By understanding the meanings, examples, and synonyms of these common phrasal verbs, you will be better equipped to navigate various social and professional situations. Whether you're learning English as a second language or simply looking to expand your vocabulary, this comprehensive list provides a valuable resource for language learners of all levels.
So why not take the time to review and practice these phrasal verbs? Start incorporating them into your everyday conversations and writing to solidify your understanding and fluency in English. With dedication and practice, you'll soon find yourself using these phrasal verbs with confidence and ease!
Other Popular Articles - قد يعجبك أيضا