Sea Animals and Reptiles Names Vocabulary Worksheets
In our English vocabulary learning series, we are going to learn the names of the sea animals and reptiles. Talking about these species and learning their names builds your vocabulary.
You can learn some examples through our interactive course in the video below. Here you can listen, repeat and simply practice all the family members' names in English.???????????????????????? ????????
Names Of The Sea Animals and Reptiles with Arabic Translation:
These are the names of the Reptiles and Amphibian in English with their equivalents in Arabic:
أسماء الزواحف والبرمائيات بالعربية والإنجليزية للمبتدئين بالصوت والصورة
Octopus = الأخطبوط
Shark = القرش
Squid = الحبار
Jellyfish = قنديل البحر
Starfish = نجمة البحر
Crab = الصلطعون
Sea Urchin = قنفد البحر
Sea Horse = فرس البحر
Tuna = التن
Snail = الحلزون
Whale = الحوت
Penguin = البطريق
Bass= القاروس
Shrimp = قريدس
Frog = الضفدع
Dolphin = الدلفين
Crocodile = التمساح
Amphibians = البرمائيات
Sea Animals and Reptiles Worksheets PDF
Download free sea animals and reptiles vocabulary worksheets, puzzles, crosswords and flashcards for beginners from the link below. This vocabulary lesson is targeted to the beginners and intermediate to build their basic vocabulary in English and help them speak confidently. You can check our tips on how to learn English Faster
here
.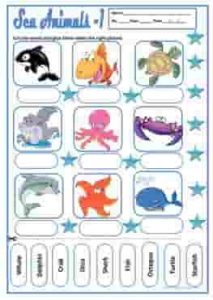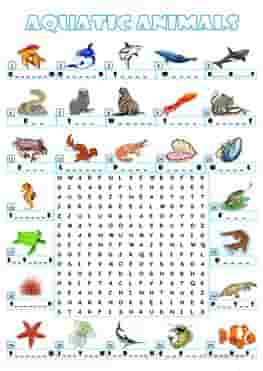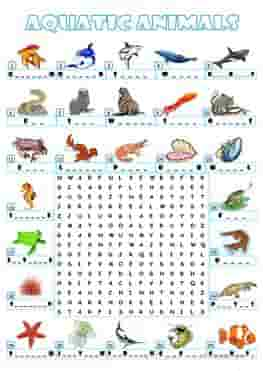 That's it! Now you are able to talk about sea animals, insects and reptiles in English. Congratulations and keep practicing for better mastery. Thanks for your attention. Hope you liked the lesson and see you again in an other English lesson in our coming courses. Don't forget to subscribe to our newsletters below to receive new tips right to you inbox.
Other Popular Articles - قد يعجبك أيضا